August 23, 2021
Information on how to manage Milestones for a Project.
---
Milestones define a significant point or event. They represent a moment in time so have no duration. Examples of Milestones are Project Start and End Dates, Workshops Completed, Development Completed, Launch Events, Website Go Live.
Add Milestones
Use the Shortcuts drop down button to add Milestones to Projects. This button is viewable on most Project views, in the top right hand corner.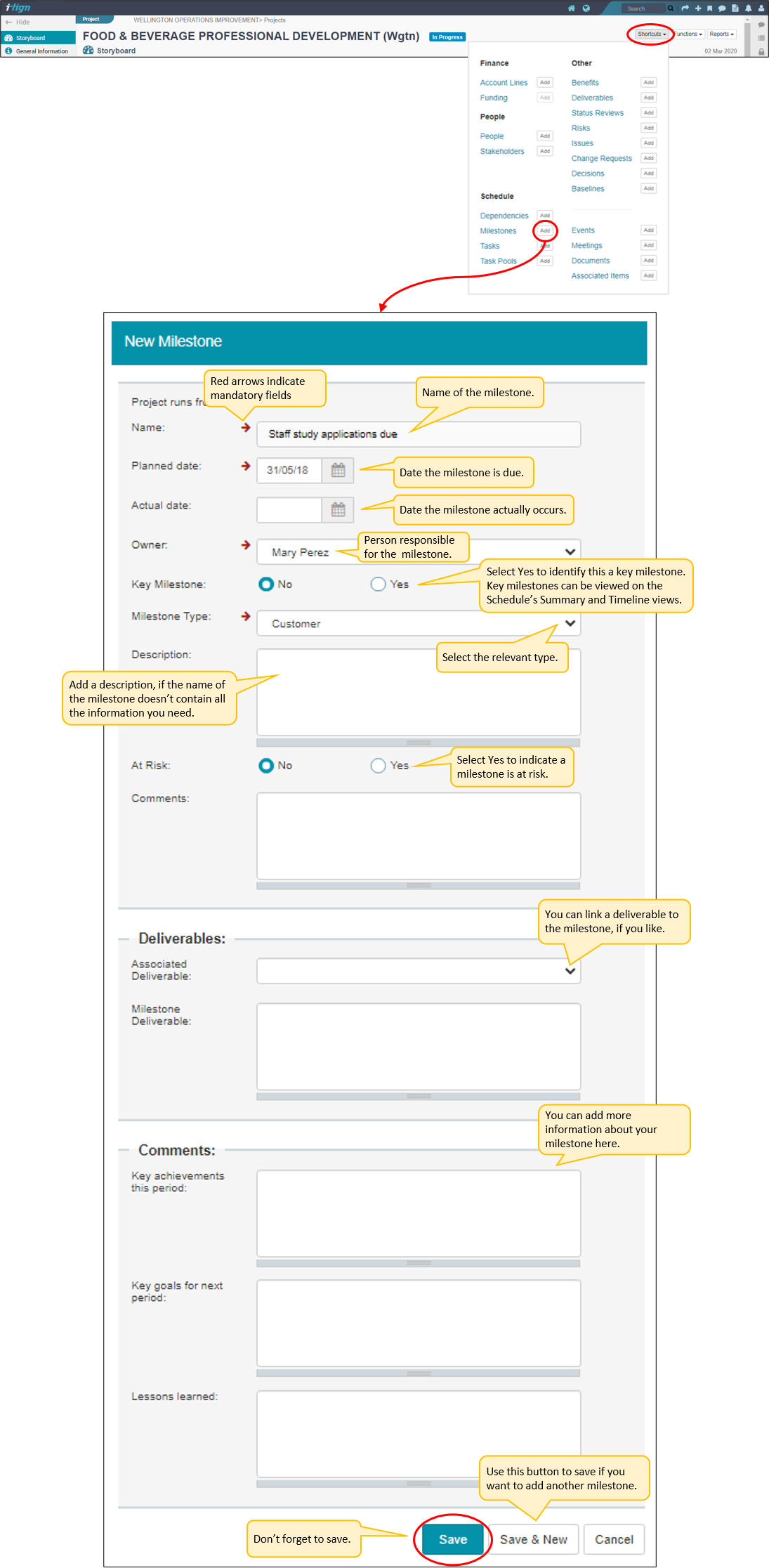 Use the Add button to add a Milestone quickly
As well as adding Milestones from the Shortcuts drop down menu, you also have the option of using the Add button when you're in the Milestones or Schedule Tabs. When adding a Milestone via the Add button, all fields apart from the name are set to default values which can be edited later.

View and Edit Milestones
Use the left hand Vertical Navigation Bar to navigate to your Milestones Tab. This Tab provides a Table view of Milestones. If your project is part of a programme, then the progamme Milestones Tab will also show the project's milestones.
Milestones are also visible on the Schedule Tabs. There are three views. The Summary provides an overview of the Project's schedule. To view key milestones on the Summary view, select the Show Key Milestones box on the top right hand side. The Gannt view provides the core functionality available in conventional gantt charts such as task, milestone and dependency management. It's intended as a simple, accurate view of your schedule and dependencies, without the clutter of detailed information available in other views. There is also a Table view of the Project Schedule.
Table View (Milestones Tab)

Gannt View (Schedule Tab)
Click here for information on how to Customise your Gannt.