July 25, 2022
Information on how your organisation can use the application to manage benefits.
---
Organisations expect that their investment in both current and new areas of work will generate benefits of some sort. However, without ongoing attention, these benefits do not always materialise fully, if at all. As a result benefits management has become a significant focus for many organisations.
Benefits are the positive outcomes expected as a result of the work being carried out. For example a benefit may be increased staff engagement or increased customer loyalty or increased profit. These benefits can be financial or non financial in nature. They may have measures attached which help track how well they're being achieved. Benefits in our application are assigned a gold, silver or bronze value to estimate the value of the benefit to the organisation. This value estimate enables you to compare benefits of different types eg financial and non financial benefits.
Our benefit management approach is based on the following two principles, which increase the likelihood your benefits will be fully realised:
1. Benefit owner accountability Benefit owners are accountable for their benefits from the time the work starts. When potential benefits are identified at the business case stage, relevant people from the business are identified as potential benefit owners. Only benefits that the relevant benefit owners have accepted accountability for are used to justify the work going ahead. As part of this accountability, benefit owners make sure that work is being carried out from the beginning to ensure their benefits will be achieved.
2. Regular review of benefits Benefit reviews are carried out regularly from the time the work starts. This involves the benefit owners regularly reviewing the feasibility of their benefits. Those managing the work designed to deliver the benefits (eg project managers, line managers) take account of these regular benefit reviews and make changes where appropriate. Those with governance responsibilities also take account of these benefit reviews and make changes where appropriate.
Organisations vary considerably in the way they manage benefits. Our aim is to allow you to manage benefits with a light touch, while still providing sufficient functionality should you prefer a more detailed approach. In general, the phrase less is more applies ie you are better to focus on a small number of higher value benefits than a spend time tracking a multitude of benefits, some of which may be of relatively low value.
The rest of this tutorial outlines how to enter and view Benefits information.
Add benefits and measures
You can add benefits to any initiative in our application (ie programmes, projects, services and activities). Use the Shortcuts drop down button to add benefits to projects and programmes. Use the Functions drop down button to add benefits to activities and services. These buttons are viewable on most initiative views, in the top right hand corner.
Add benefit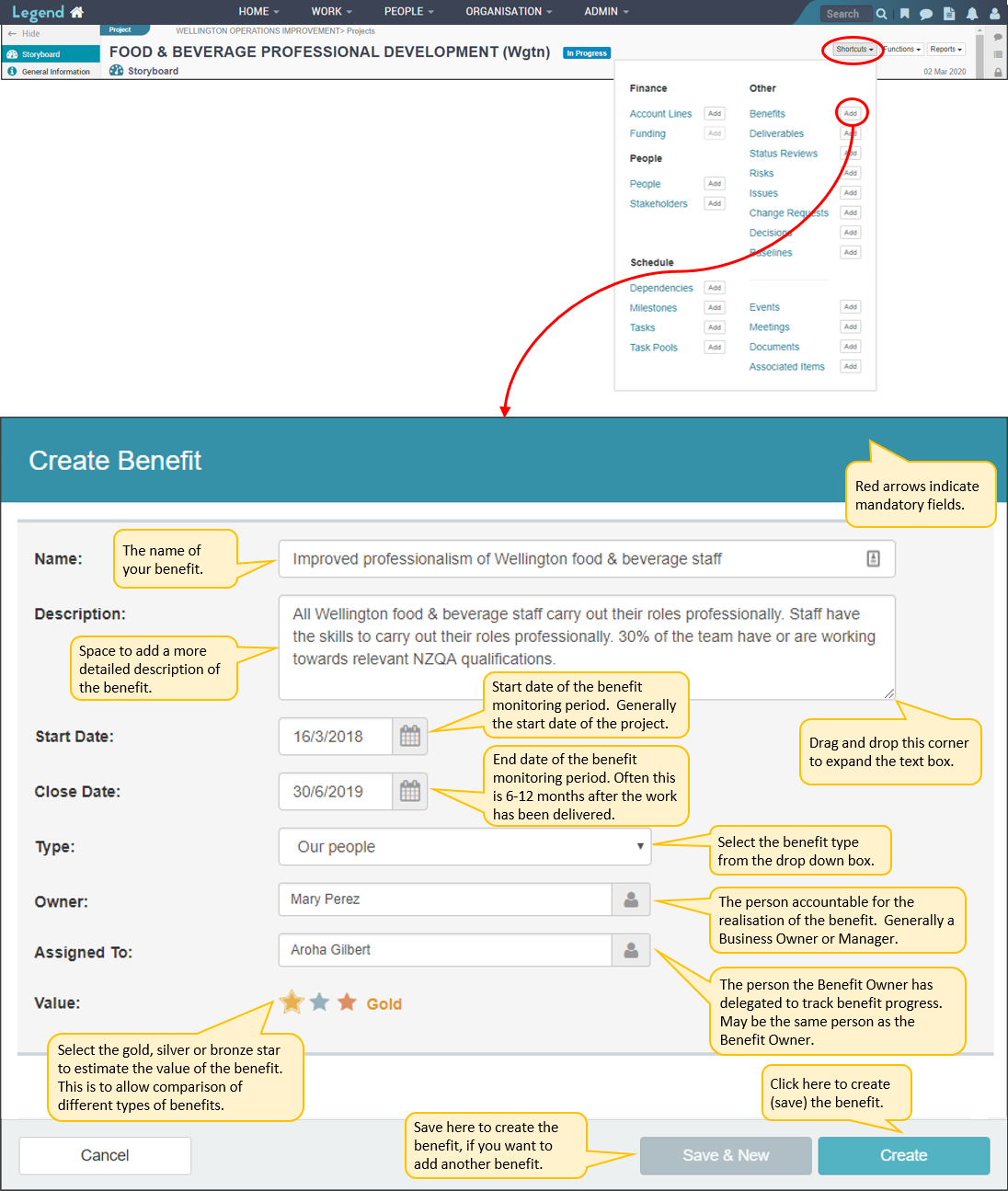 Add measure(s)
Once you have created a benefit, you can add measures to it, from the Table view of the Benefits tab.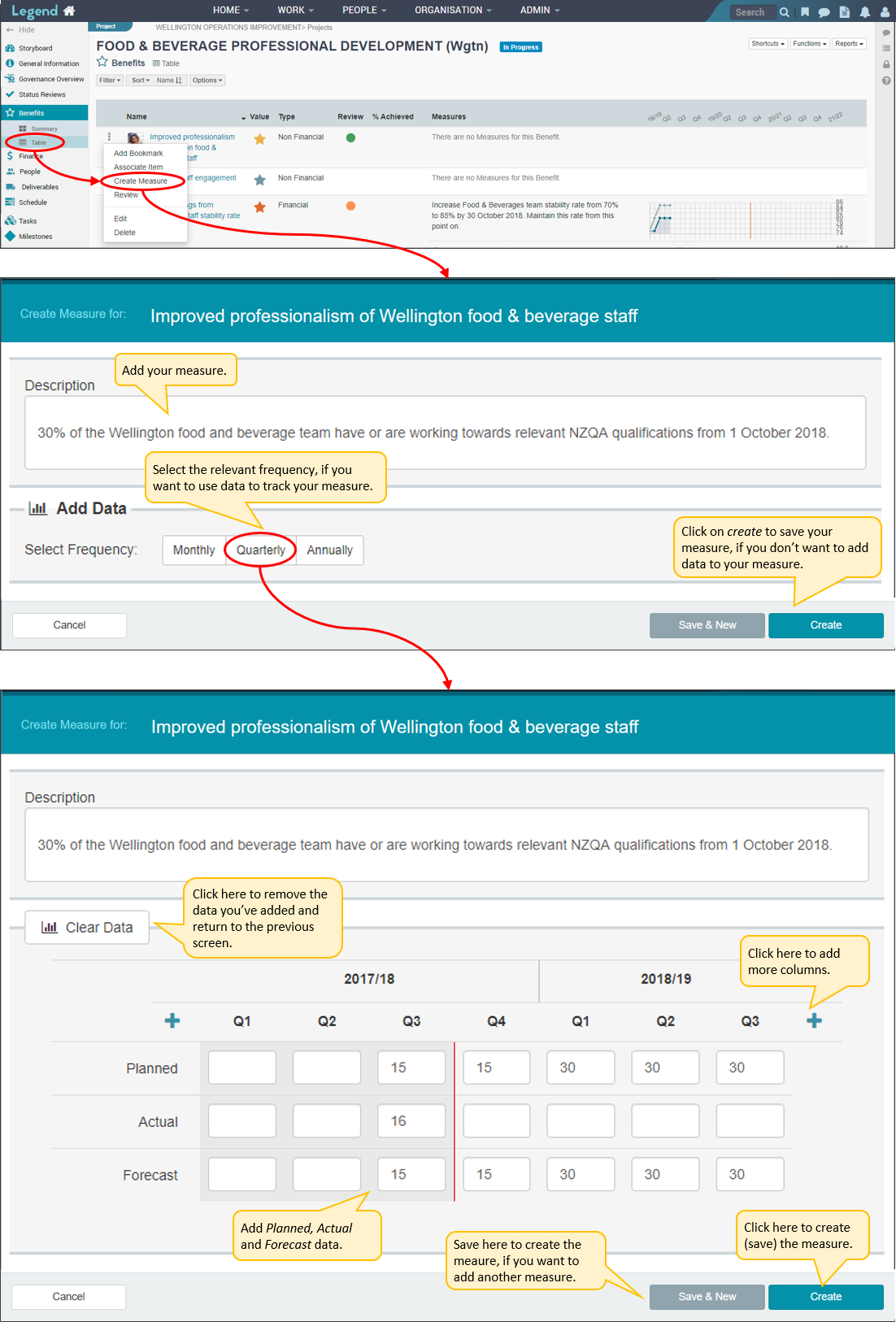 Edit measure(s)
If you are using data to track the progress of a measure, then you'll want to update this data over time. Prior to actual data becoming available, forecast data can be added/edited to show whether or not it's likely that the planned targets are will be achieved.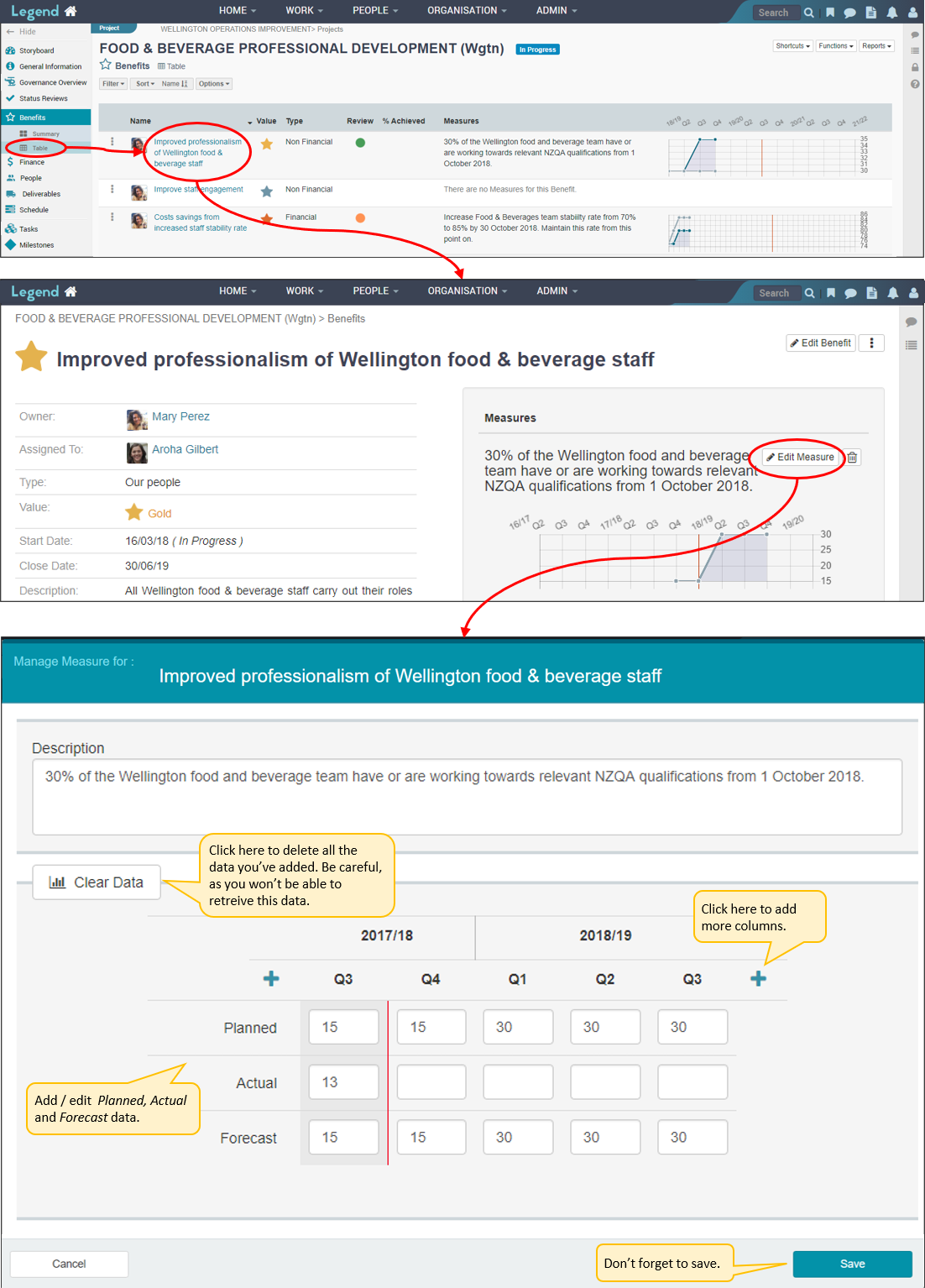 Review a benefit
Regular reviews of benefits by benefit owners from the start of the programme, project, service or activity increases the likelihood of benefits being realised. The frequency of the review depends on the organisation and also the duration of the monitoring period. It's worth updating measure data prior to carrying out a review (see section above this one).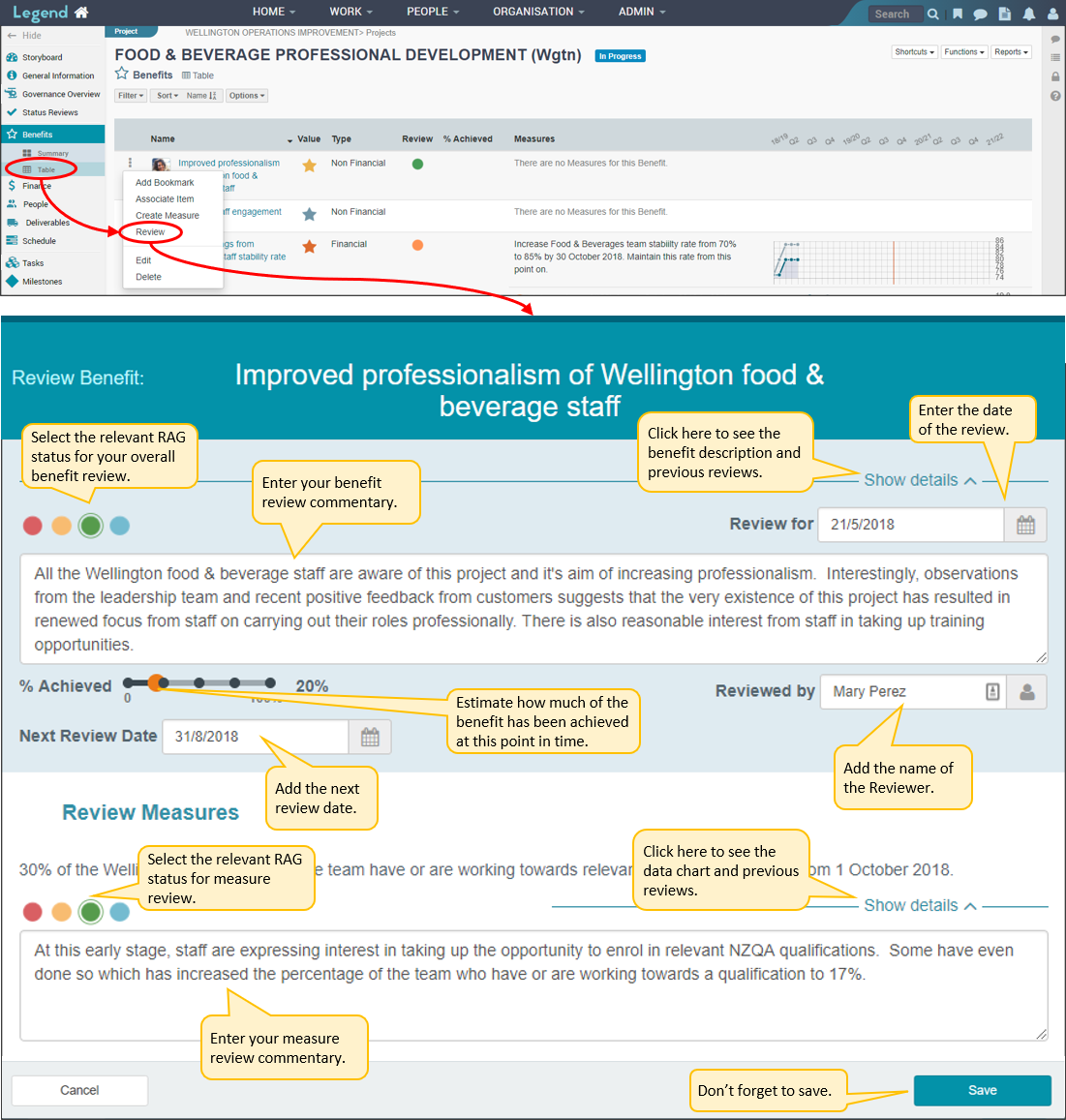 View benefit information at the initiative level
There are various views of benefits available at the programme,project, service and activity level. See the following screenshots for examples of these views.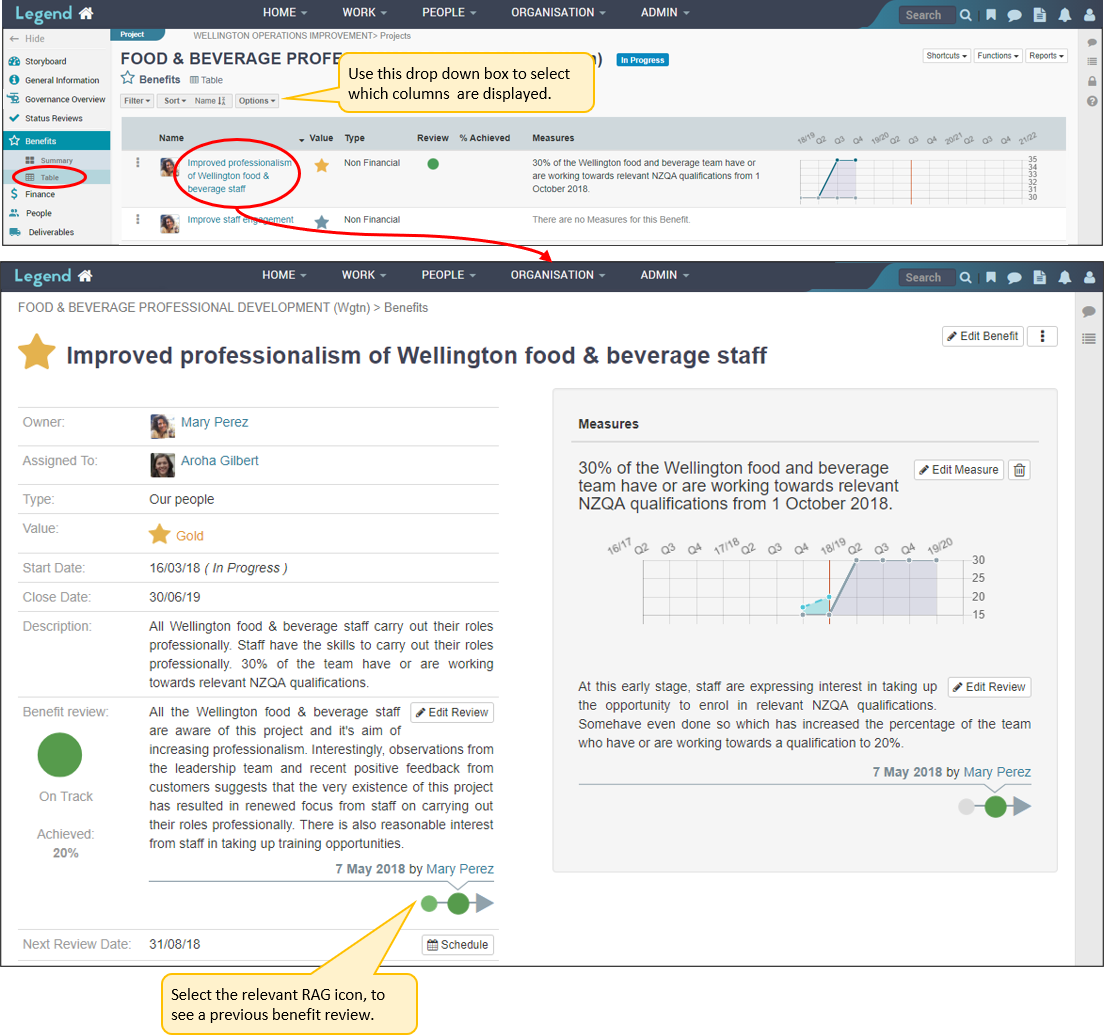 View benefit information on your home page
If you own or are assigned to a benefit then it will show up on your home page.
On the List view, benefits show under the relevant initiative. If a benefit review is due within the next two weeks or has passed it's due date, it will show on the List view under Action Required. Provided you have signed up for notifications, you'll also get an email notification 2 weeks before the benefit review is due.
Benefits which you own or have been assigned to also show on the Table view.
See below for example screenshots from the home page.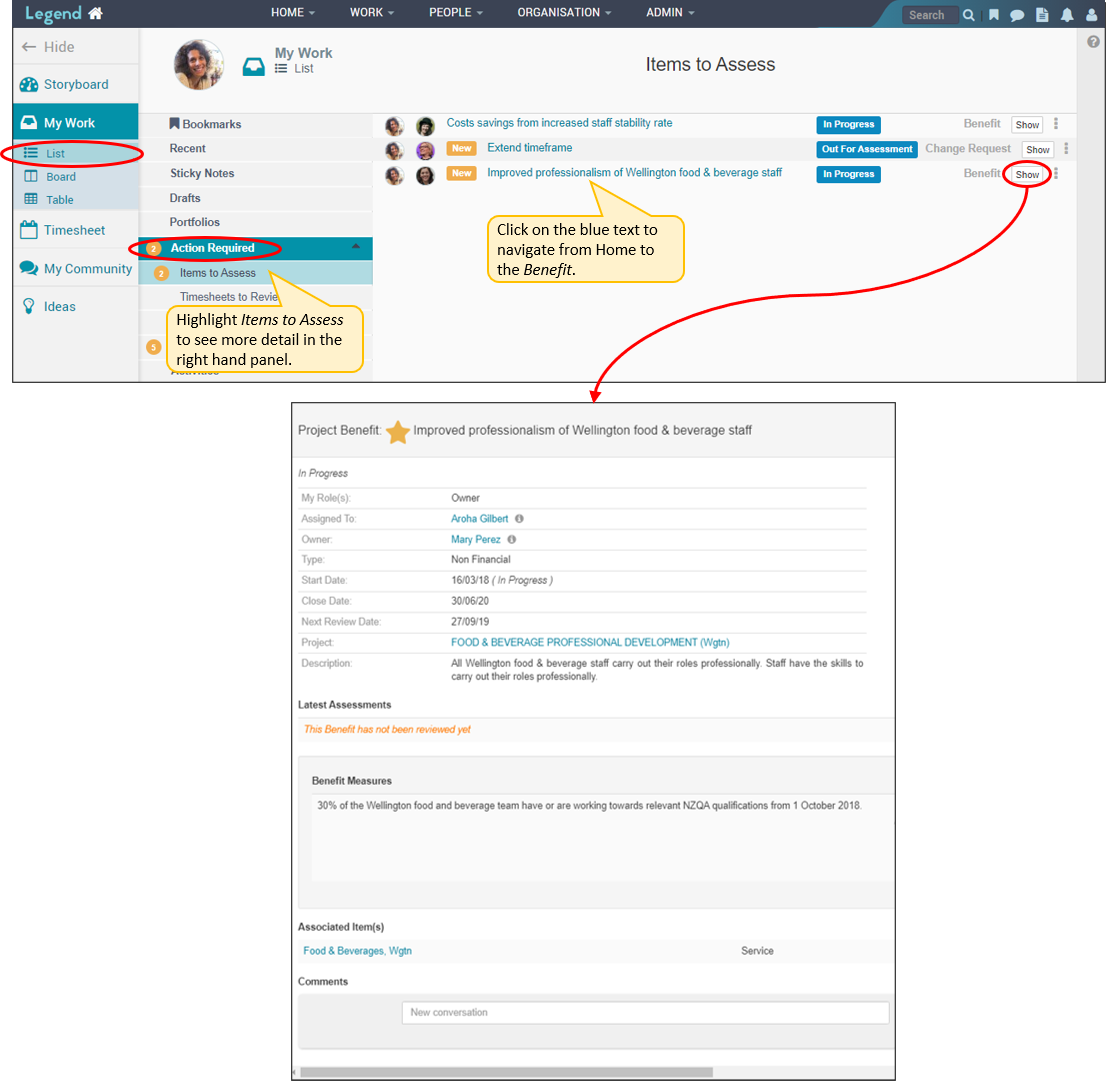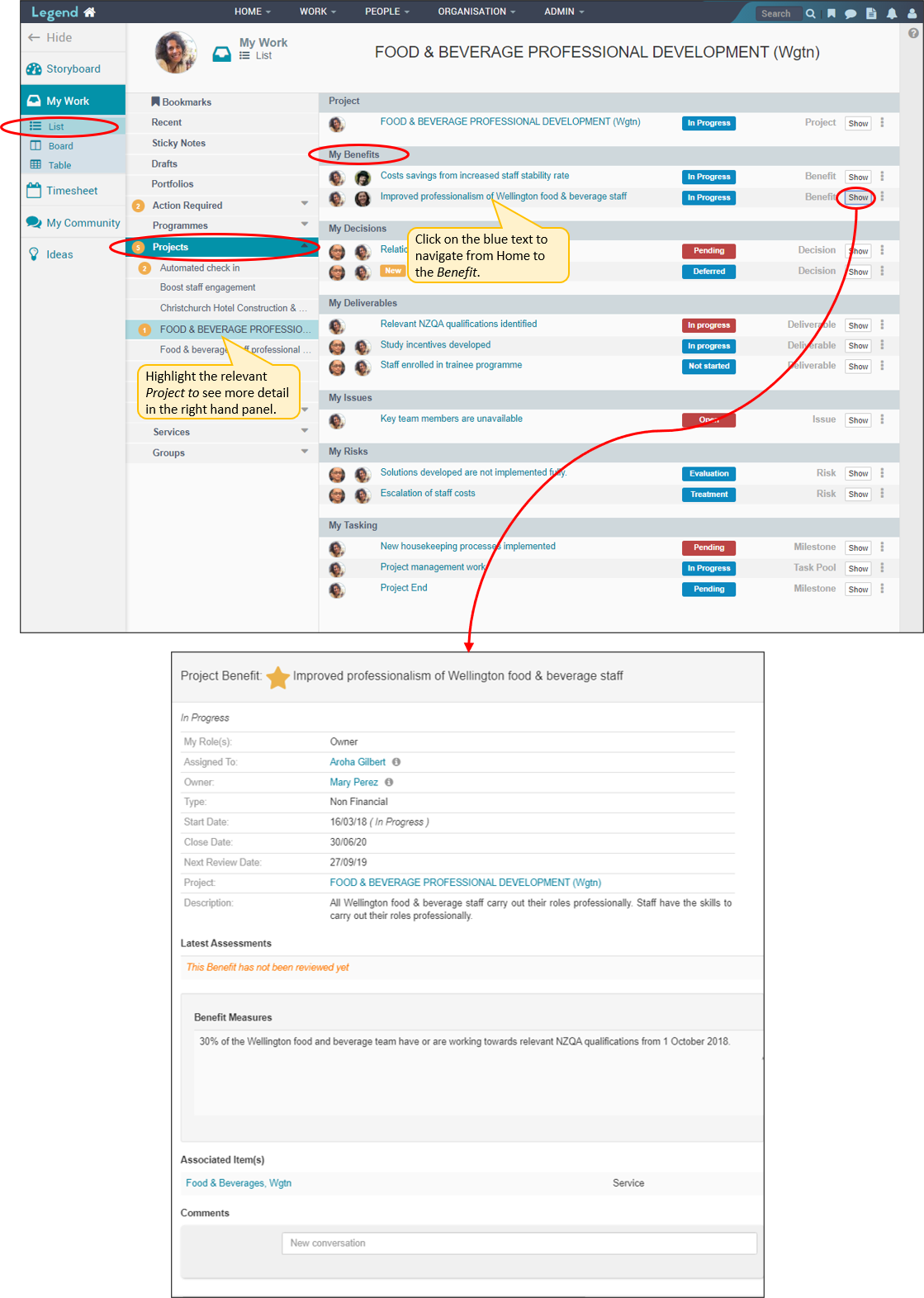 View benefit information at the organisation or group level
You can also view benefits at an organisation or group level. The screenshots below show how to to navigate to these views and give examples of the types of views you can select.