July 25, 2022
Information on how your organisation can use our application to manage strategy.
---
Our application provides a view of organisational and group Strategy. Strategy is the game plan for strengthening the organisation as a whole or a group within an organisation.
The Strategy tab provides a detailed view of the organisation / group's strategic drivers. Strategic drivers are the key components of strategy. For example, strategic drivers for a Hotel Group could be as follows: grow our revenue, attract & retain quality staff, optimise our resources, enhance the wellbeing of our guests.
You can add Key Performance Indicators (KPIs) to each of these drivers. Individual strategic drivers can also be reviewed and given a RAG status (Red, Amber, Green) to indicate how well the driver is being executed. If regular reviews are carried out and data added to the KPIs, then this tab provides a graphic view of how well your organisation or group is executing its strategy.
The rest of this tutorial outlines how to enter and view strategic information.
Add strategic drivers and KPIs
Add strategic driver
Strategic drivers are added from the Organisation dropdown on the top level Horizontal Navigation Bar. Click on the + icon next to Strategy.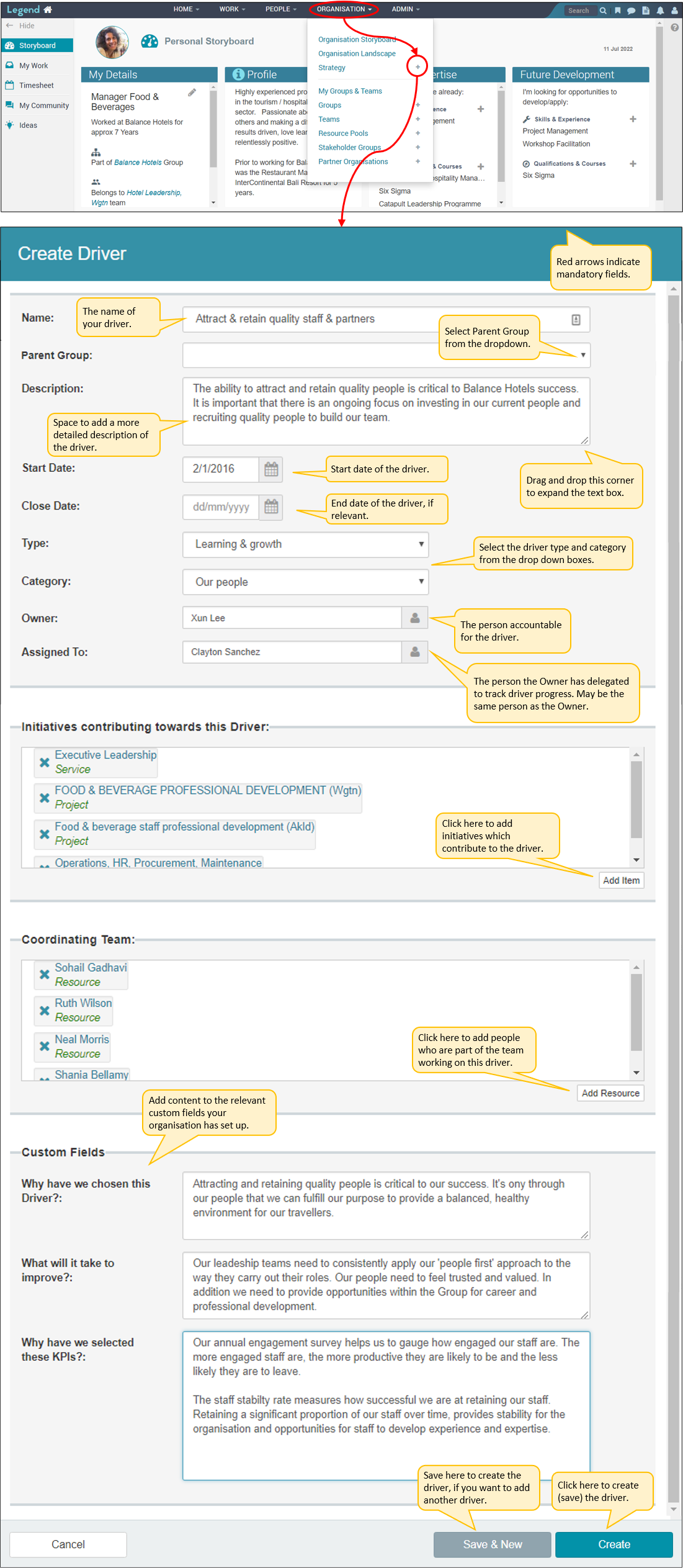 Add KPIs
Once you have created a driver, you can add KPIs to it.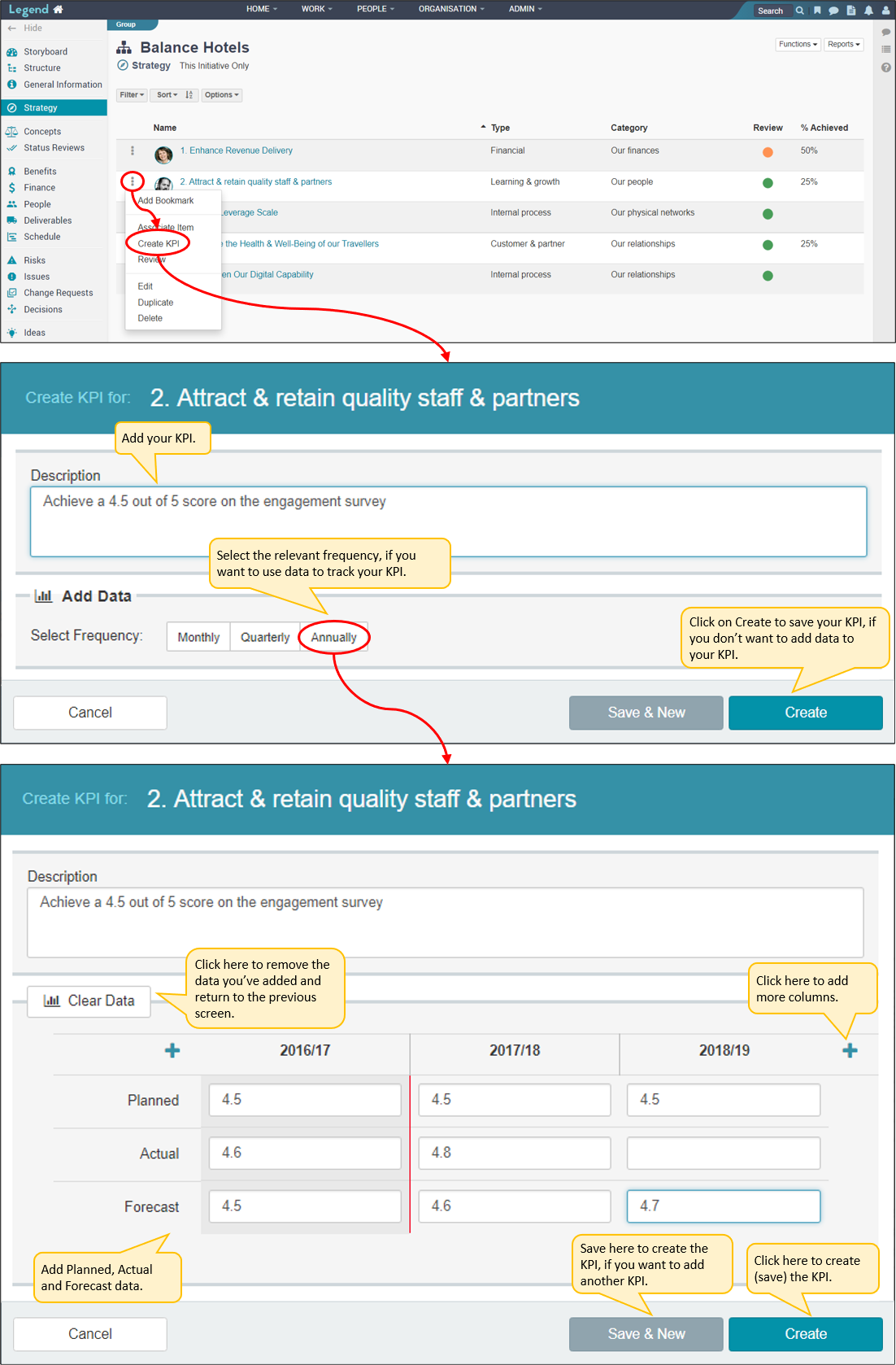 Edit KPI(s)
If you are using data to track the progress of a KPI, then you'll want to update this data over time. Prior to actual data becoming available, forecast data can be added/edited to show whether or not it's likely that the planned targets are will be achieved.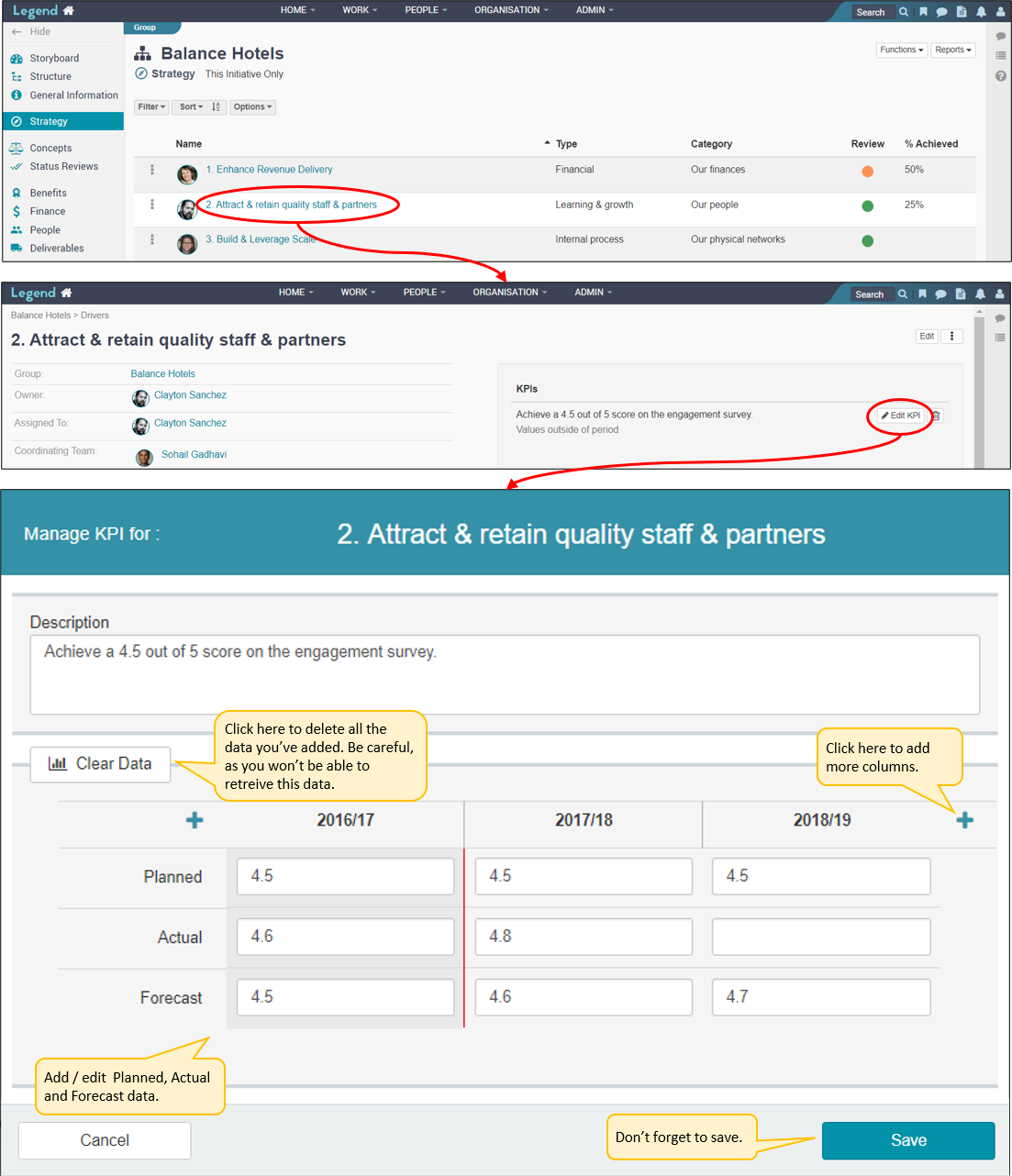 Review a strategic driver
Regular reviews of strategic drivers help keep your organisation / group focused and up to date on how execution of strategy is going. The frequency of the review depends on the organisation. It's worth updating KPI data prior to carrying out a review (see section above this one).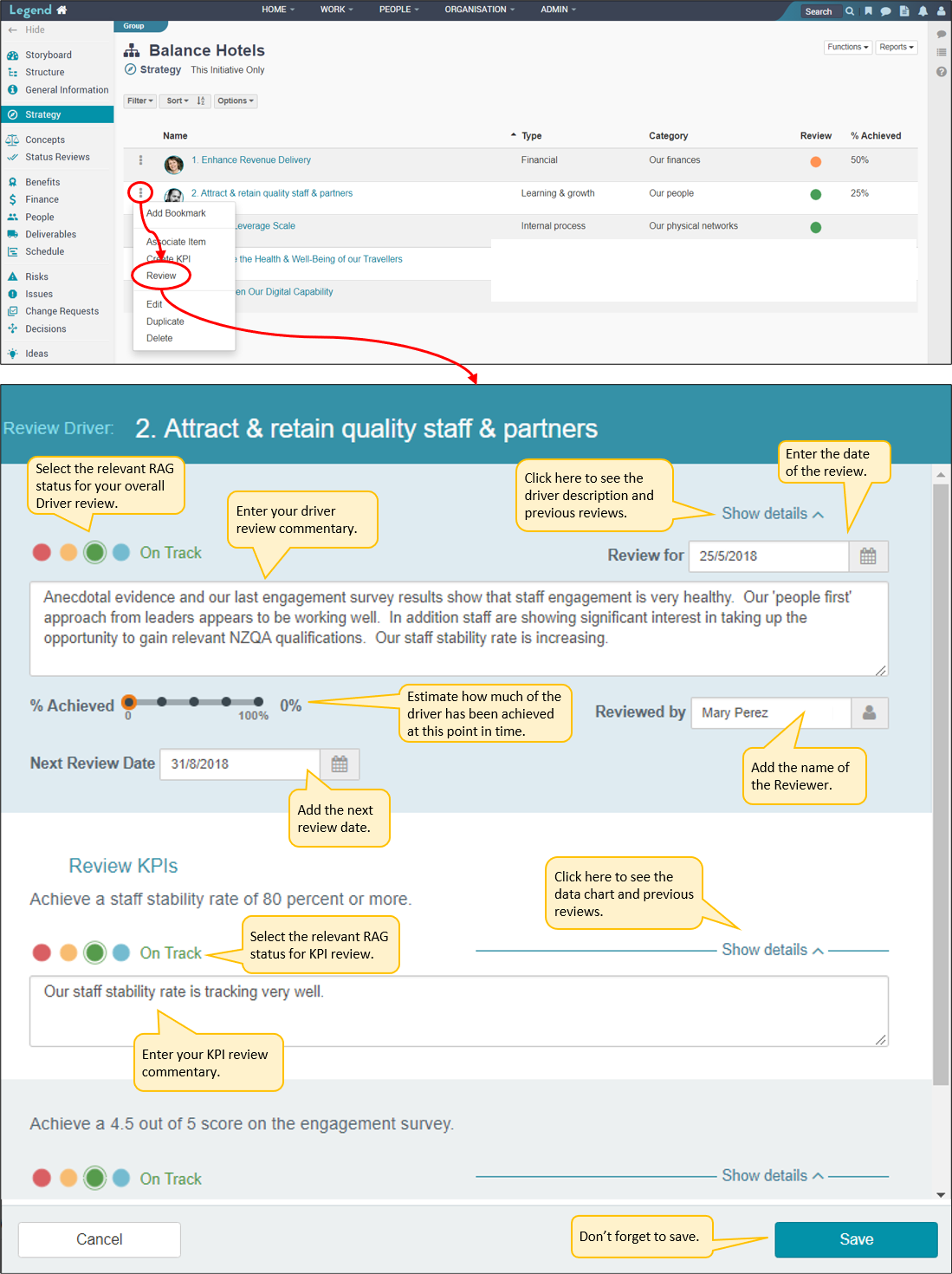 View strategy
To view strategy at the organisational level, click on the Organisation dropdown on the top level Horizontal Navigation Bar and select Strategy
To view strategy at other group levels, first navigate to the relevant group. Then use the left hand Vertical Navigation Bar to go to the relevant tab. Strategic drivers show on the Storyboard and General Information tabs in summary form and the Strategy tab in more detail.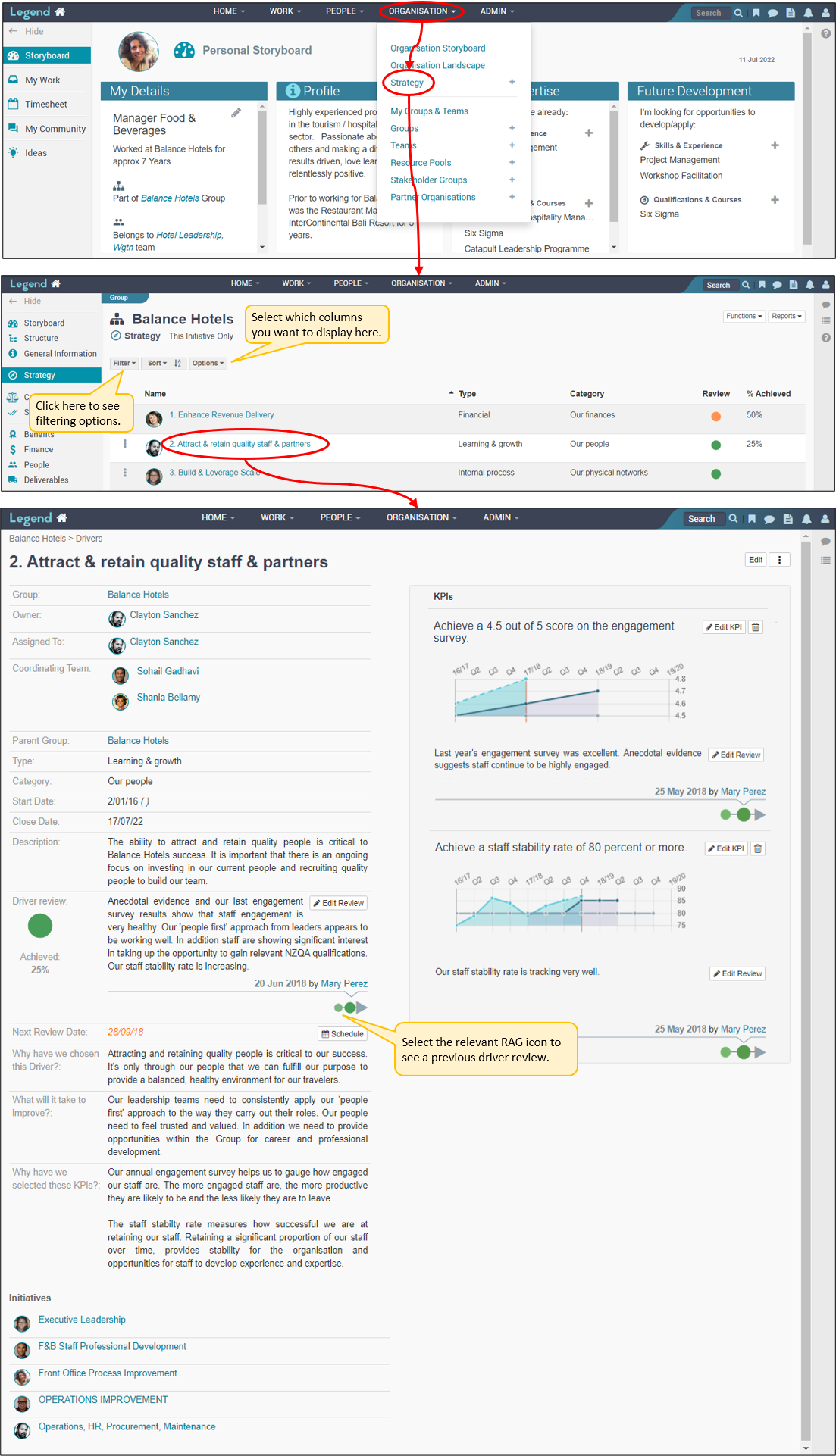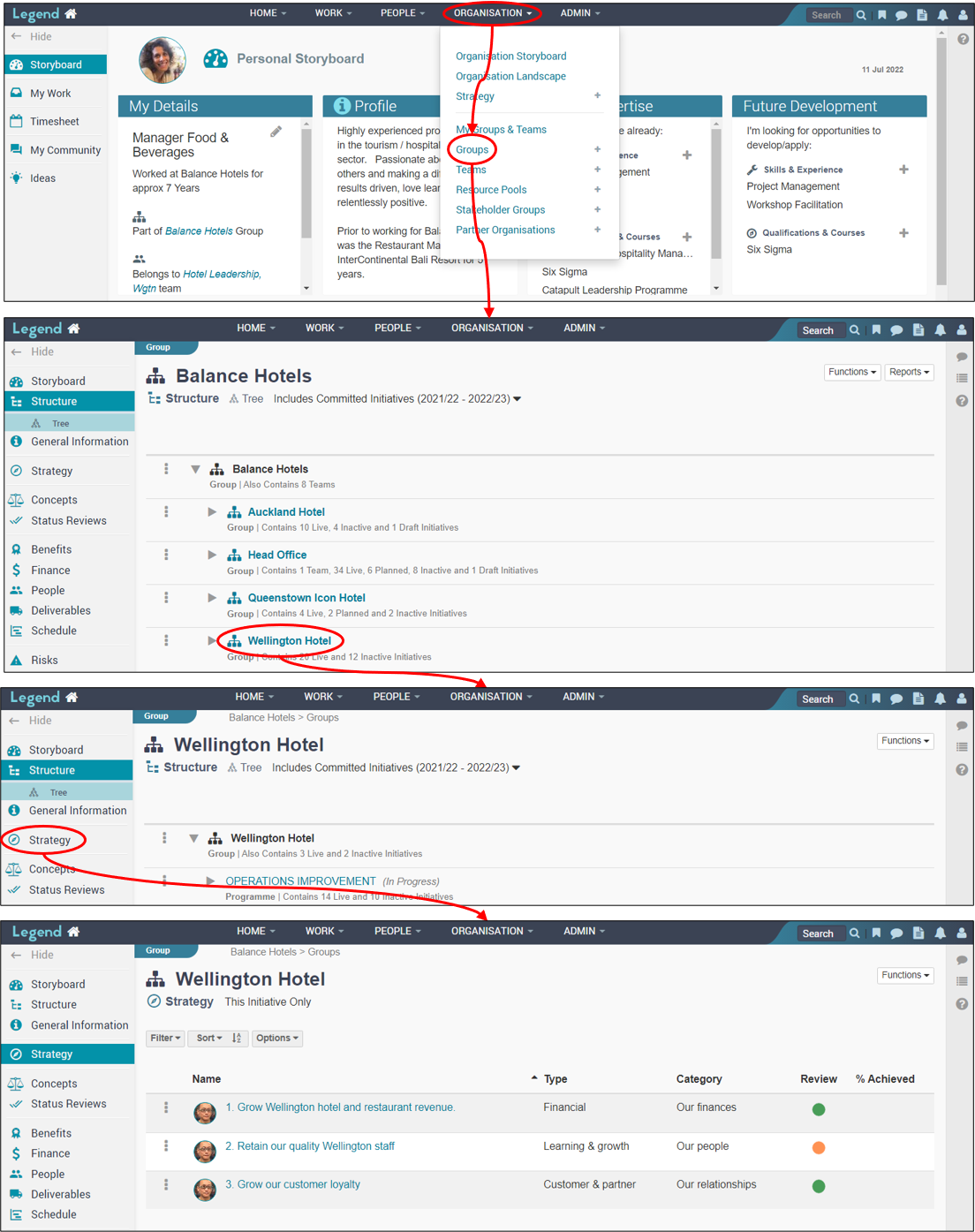 View strategy information on your home page
If you own or are assigned to a strategic driver then it will show up on the List view of your Home page under Groups.

Security access needed
You need the following security flags to view strategy:
Groups: View
Strategic Drivers: View
To edit or delete drivers and KPIs you'll also need:
Strategic Drivers: Manage