July 16, 2018
Information on how to add and edit Task Pools.
---
To manage overheads during the project, such project management admin, you have the option of setting up Task Pools instead of Tasks. Task Pools show on the Timeline as a different shade of blue and have less set up options than Tasks. Along with Milestones and Tasks, Task Pools are visible on the Timeline view of the Tasking tab as well as the Board, Assignments and Table views.
You can add Resources, Action Items and other related information to your task pool. When someone is added to a task pool, the effort they've been allocated will show on their resource allocation information. The task pool will also appear on the person's timesheet.
Once a task pool is underway, you can update progress via the Percent complete field. This task pool information is used to calculate the overall progress of the project which you see on the Snapshot view of the Summary tab.
Add task pools
Key task pool information
The following information is used to set up task pools:
Time frame (start & end dates)
Assignments (people working on the task pool along with their allocation rates)
Task Pools require you to enter this time frame and assignments manually. If you want more flexibility than this, then you can use Tasks.
Manually entered time frame and assignments
To set up a task pool, you enter the start & end dates. If you know who will be working on your task you can also add this information along with their time allocation percentages. You can add resource information at a later date, if you don't have it when you're setting up the task.

Using the add button to add a task quickly
As well as adding Task Pools from the Shortcuts drop down menu, you also have the option of using the Add button to add a task quickly while working in any of the Tasking tab views. When adding a task via the Add button, all fields apart from the name are set to default values which can be edited later.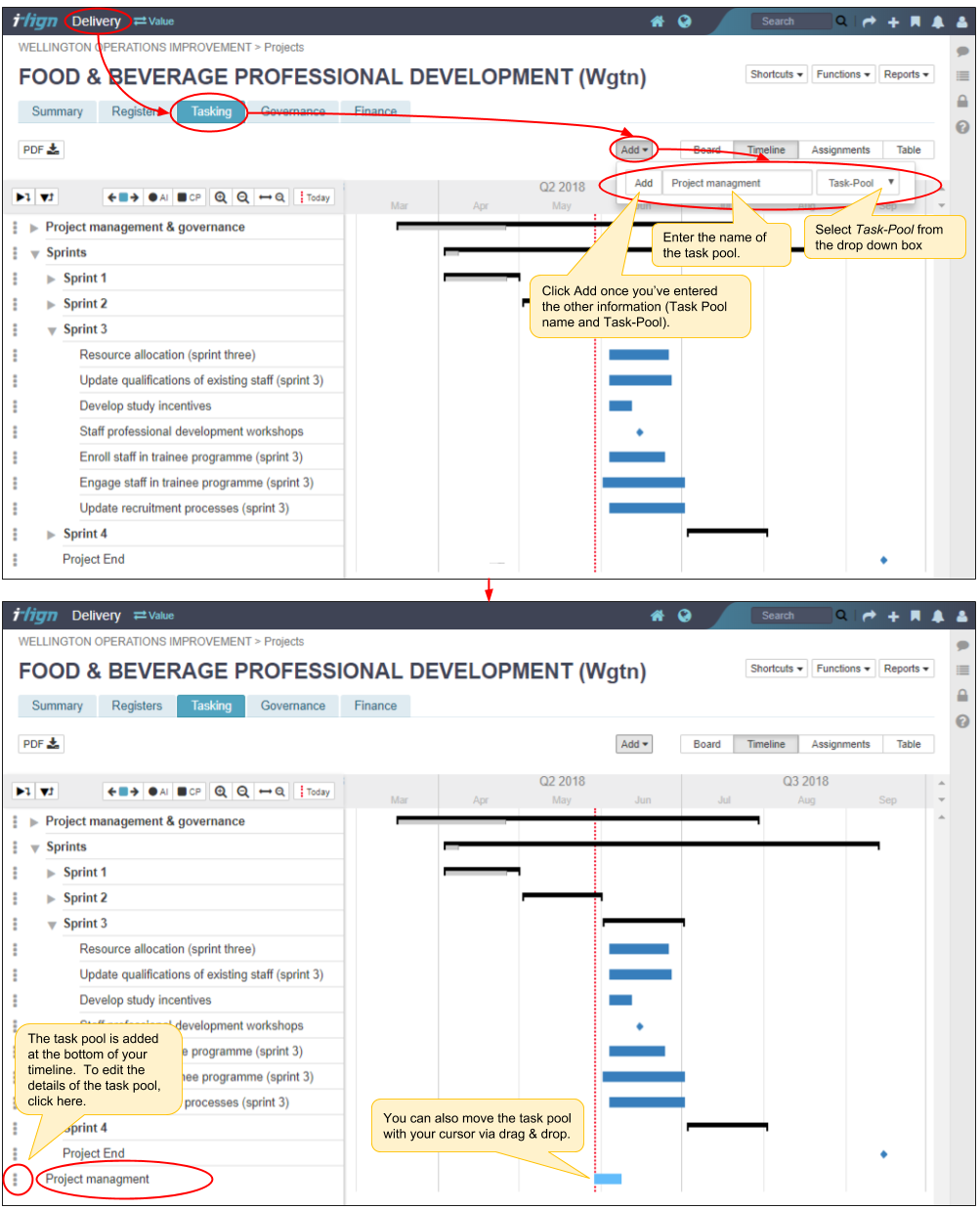 Edit task pools
Once the Task Pool is set-up you can update it's status and edit it to reflect any changes.